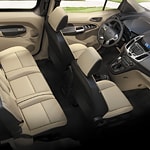 The Ford Transit Connect is a great vehicle for anyone who needs a spacious passenger/cargo van. It's available at Beechmont Ford in Cincinnati, OH. You'll discover how the Transit Connect provides real estate for passengers and cargo in this blog post.
Practical Seating
Many people can take a trip comfortably in a Ford Transit Connect as it has seating for up to seven passengers. The big benefit is that you can modify the layout in the cabin according to your travel situations. For example, if you need fewer seats and more cargo space, you can fold down the rear seats.
Convenient Cargo Options
Thanks to the Ford Transit Connect's cargo capacity, most equipment fits snugly in the cabin without creating clutter. The key is the cabin's design because it makes the process of arranging cargo in strategic spots easier. There is usually space around boxes and equipment because the load floor is nearly two feet, which is ideal for items that are up 43.3 inches. If you need more space, you can add 106 cubic-feet by collapsing the seats in the second row.