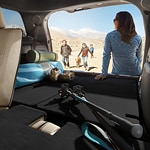 If you want to test your driving limit in an SUV, then the 2020 Ford Explorer is a great choice. This three-row SUV is quite popular among a wide demographic of people because it brings so many wonderful features to the table. Yes, the 2020 Explorer has astounding good-looks, and its interior can seat at least seven individuals.
Consumers can expect a smooth drive when seated behind the wheel of this beast. The 2020 Ford Explorer has near-perfect handling and precise steering that's unlike most other SUVs. High wind conditions are minimized thanks to the vehicle's Sidewind Stabilization capability. This comes in handy when overtaking large trucks or crossing bridges. Consumers can also expect to choose from four-wheel drive and rear-wheel drive models. The Explorer also offers selectable driving modes to better match your driving environment.
Hit us up at our dealership to get a first-hand look or to take a test drive.