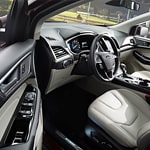 At Beechmont Ford, we believe a family car can be both stylish and functional. The Ford Edge midsize SUV offers much in terms of both style and performance. Ford has given the Edge a classy interior that makes a bold statement.
Each Ford Edge is equipped with leather accents which include a leather-wrapped steering wheel. The SUV also has perforated bucket seats that are trimmed in leather. These features are combined with ambient lighting to create a comfortable vibe for the Edge's interior. This elegant styling doesn't mean you'll have to compromise on the performance of the Ford Edge. It is built from the ground up for an adventure.
The best way to experience all the Ford Edge has to offer is to come and take a test drive at our dealership in Cincinnati, OH. We can arrange the test drive when you call or visit us today. Our team is ready to help.